Top 10 Movie Moms
Ah, mothers. They are an elite group of people tasked to nurture their child into the person they ought to be. Some can be crazy, some can be loving, some can even be badass. However, in film, there are so many important movie moms out there it's hard not to recognize them. So here at the Red Carpet Refs, Ref Nico tried to organize a list of some of the most important movie moms out there.
10. "The Incredibles" – Helen Parr/Elastigirl
Having a super family isn't exactly something every mother has to go through, and Helen Parr a.k.a. Elastigirl knows the perils of having a super family all too well. But, she finds the time to balance saving the world and raising teenagers (and who can forget about Jack-Jack?). Sure she's above crime, but she's not above great parenting.
9. "Mommie Dearest" – Joan Crawford
I think it's safe to say Joan Crawford is not what people think having a movie star for a mom is like. Having Crawford as a mom would suck, but the worst part is the fact that she adopted Christina. Imagine being adopted into an abusive mother. Sheesh. Just don't talk about wire hangers in front of her. Ever.
8. "Kill Bill" – The Bride
Imagine waking up from a 4-year coma to find out the baby you were carrying in your womb was gone. Now imagine if pretty much all the people you ever knew betrayed you. You'd wanna crack some skulls so you could find out what happened to your child. And hey, The Bride wastes no time slicing and dicing anyone in her way of getting to her child, making her one tough movie mom.
7. "Psycho" – Mother
This elusive yet deadly mother has a lot of secrets to hide (*Wink, wink*). But in the end, she can't be that bad of a mother. I mean cmon, Norman is obsessed with her. It's almost like she wants to be her… Anyways she's on this list because nothing really tops how awesome it is when she slashes Marion Crane in the famous shower scene.
6. "National Lampoon's Vacation" – Ellen Griswold
Let's face it, Ellen Griswold had to face a lot of issues throughout the Griswold's journey to Wally World. Her Aunt Edna died, her husband almost cheated on her, and so on. But what makes her a great movie mom is she perseveres through all of her challenges and always keeps the family happy…well sorta. Either way, she's one of the funniest movie moms, and you can credit that to Beverly D'Angelo's unforgettable comedic performance.
5. "Forrest Gump" – Mrs. Gump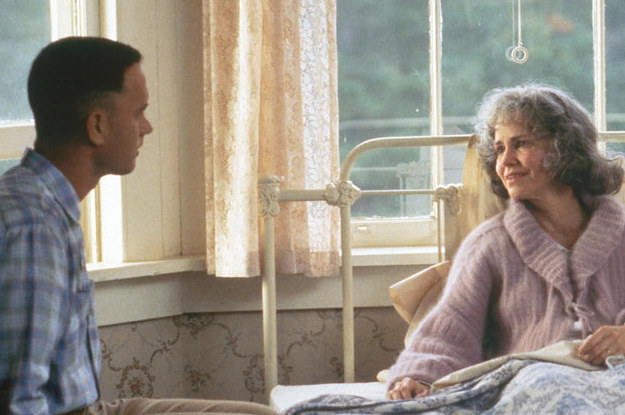 Mrs. Gump had a lot to deal with while raising Forrest. She had to deal with his disabilities, raise Forrest on her own, and run a B&B at her home. Yet it is almost like she becomes wiser after everything that has happened to her. After all, she's the one that coined the unforgettable phrase "Life is like a box of chocolates, you never know what you're gonna get."
4. "Room" – Ma
Room is an incredibly moving film from start to finish. It really brings you through plenty of different emotions. And I think it goes without saying that it is due to Ma. She is a mother going through a struggle most cannot fathom, making her one of the strongest mothers on this list. (Don't forget about Brie Larson's award-winning performance.
3. "It's a Wonderful Life" – Mary Hatch
Sure, in It's a Wonderful Life the romance between Mary Hatch and George Bailey is what people remember about the classic flick. However, it's how she takes care of her family during George's struggle that is a true testament to her character. Making her one of the most caring moms on this list.
2. "Terminator 2: Judgement Day" – Sarah Connor
I think this goes without saying: Sarah Connor is the most badass movie mom is film history. Get real. She is a tough-as-nails mom who will stop at nothing to make sure that pesky T-1000 doesn't lay a finger on her John Connor. Her action scenes are unforgettable and incredibly cool, proving she's one of the best moms on this list.
1. "The Blind Side" – Leigh Anne Tuohy
Last but certainly not least, Leigh Anne Tuohy. She is without a doubt the best mom to ever grace the big screen. She not only takes in a homeless boy, she shapes him into a wonderful man. She is the most caring, compassionate, and eccentric mothers ever. After all, Sandra Bullock's performance garnered a freaking Oscar for crying out loud.
So there's our list! Did you agree with our list? Did you disagree with it? Who would you have liked to see in this? Let us know in the comments down below!